THIS SUMMERS MUST HAVE
Yep! Spring is here and it's so much fun, because this year many many of you want dresses in 100% linen !!
We are ready to meet spring and summer in new linen dresses. Are you? The sky is blue and the sun is shining. Finally!
It's been a long time since the sun has warmed us. Spring is here!

The most wonderful summer dresses.
After a long winter, we long for summer .... sandals,, late summer evenings on the terrace in the most wonderful linen dresses. We should throw away our tights and find the sandals now, but we have time to wait a little longer.
But we can start preparing for the summer ...... We take out the summer dresses, polish the dust off the sandals, and this year there are obviously many who dream of linen dresses. Maybe because many have discovered that linen is an absolutely beautiful material for dresses. It is breathable, and it is perfect for days with various temperatures, as the summers in Europe can be. Cold and hot ... and at times a little magical.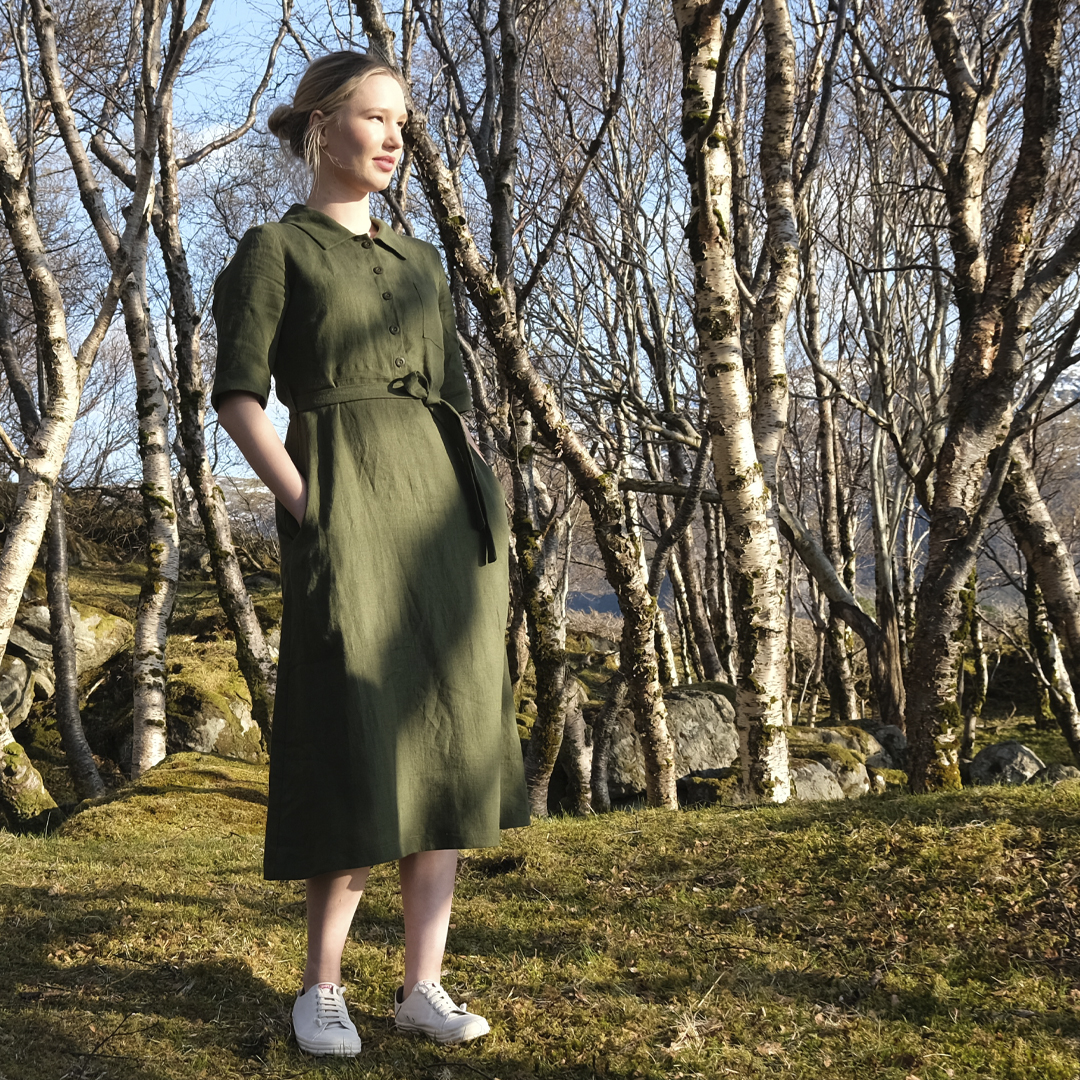 Beautiful linen dress, midi length with many nice details. What century we are in does not matter as long as we like the design.
How to choose the right dress?
This year we have invested heavily in linen, we are so proud of the collection, CHECK IT HERE! But how to choose the right shape and length? There are lots of new designs and shapes, and now we have linen dresses in all lengths. We have divided the dresses into 4 categories in terms of length. Tunic, knee-length, mid-length and maxi dresses. So feel free to measure a dress you like the length of and check the measurements of the dresses you are looking for with us. When it comes to width on the dress, the linen dresses have two different widths. It is normal width such as Tine, Pernille etc. and then we have wide shapes such as Penelope, Hannalena, Hera, Sif etc. Feel free to use our dress calculator to find both the right size and width.
Linen's many fine properties.
Did you know that linen is breathable, dries quickly and is anti-allergic .... There are so many nice properties with linen. And yes, that's true. Linen curls, but then it just looks even more real, and we believe that the linen only gets finer and finer the more we use it. Linen is timeless and it is therefore a perfect basic garment to have in the wardrobe. Linen dresses are the perfect choice for you who think about sustainability and natural materials. A linen dress is light and airy, so a linen dress fits perfectly in the summer.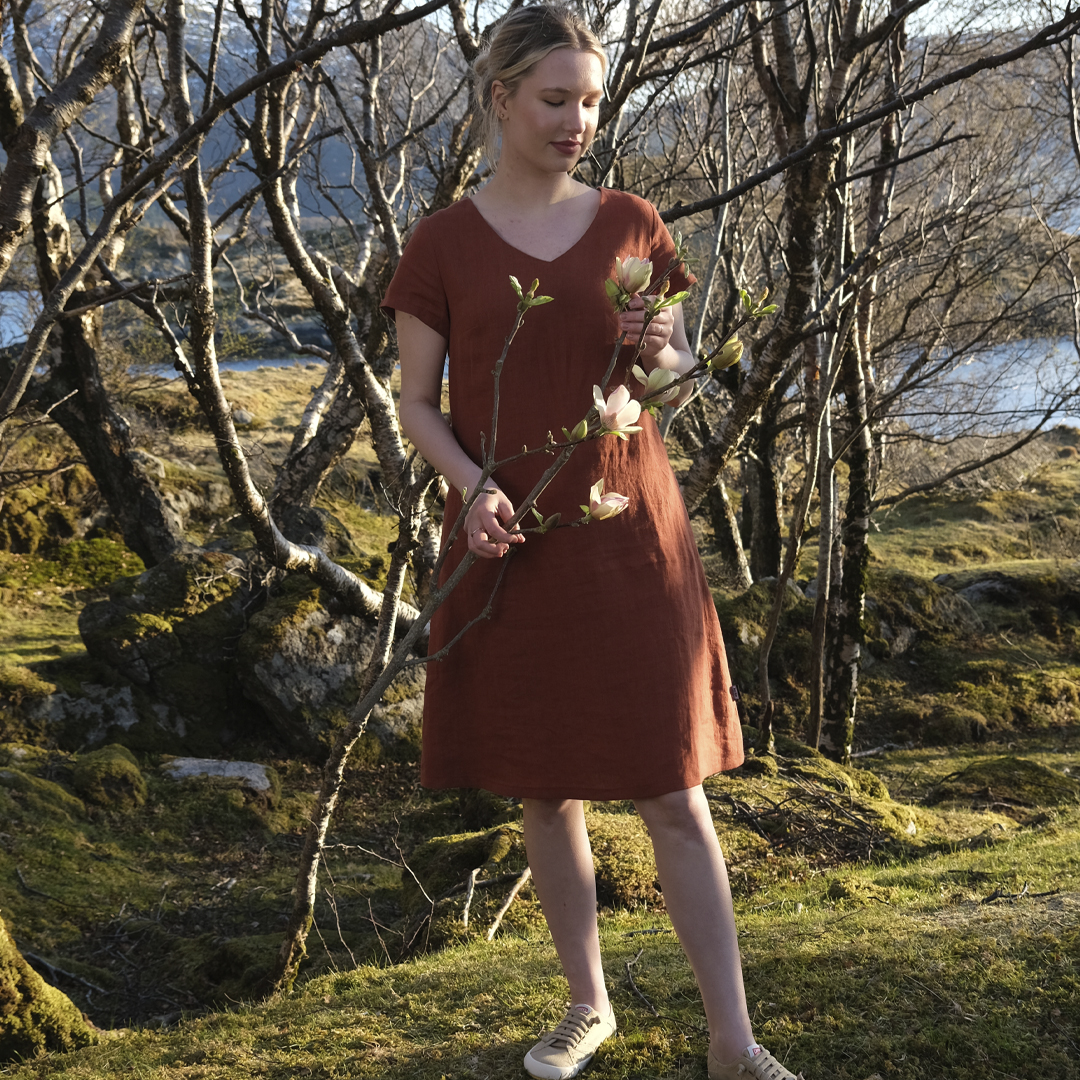 The Hannalena dress is knee-length, has a good width, pockets on the sides and comes in many colors. Maybe it will be your new favorite dress.
Colorful dresses for 10 years.
It probably shines through .... That we are extremely fond of colors and patterns. For 10 years, KO:KO norway has created colorful and adventurous dresses. Yes, colors have become part of our trademark .... And we use colors consciously to bring joy, energy and enthusiasm in everyday life. There are lots of colors in the new line collection.
The 10 year anniversary consists of reproducing previous bestsellers, and the linen dress Bjørk, is one of the reproductions that we have just launched again. So this bestseller is now back, and this time in many wonderful colors. Check out the anniversary campaign here. The Bjørk dress is perfect for hot summer days, but it is also a beautiful party dress that fits e.g. the summer wedding.
We love that our dresses last over time, that the design is so good that you keep the dresses season after season. This indicates that the dresses are sustainable also in the form of timeless design. And it is an extra plus that one and the same dress can be used for both everyday and party, such as the Bjørk dress.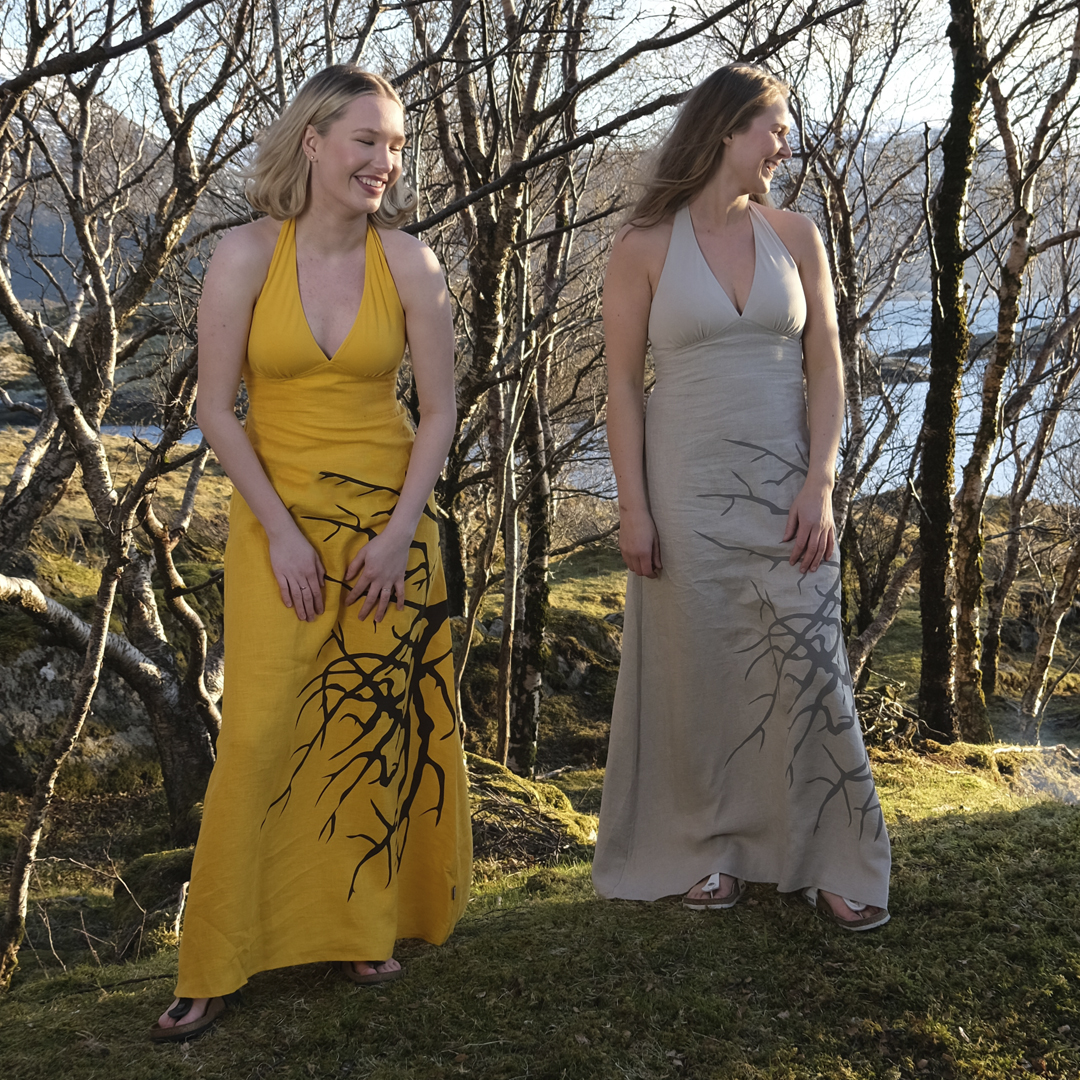 Long linendress with halter neck combined with Birkenstock sandals gives a relaxed summer look. Reproduction from the 2013 collection. With high heels, you have a party outfit.
Linen dresses that appeal to you.
Our linen collection has grown enormously in recent years, we like to experiment with patterns, shapes and colors and our customers likes it. It appears on the latest collection in 100% linen. All the dresses comes in many colors, and we have designed multiple garments in linen so that you combine several garments together. For example, a whole set of dress and jacket in the same color. We have also worked with several styles, and we are constantly visiting the 50s, 60s and 70s, the Boheme style, the tough one and we always have dresses for the classic and elegant woman. Good feedback from customers has given us the opportunity to make the dresses in many colors and in many sizes. All the dresses are now produced in as many as 9 sizes. From small sizes in 34 to dresses in large sizes up to size. 50, we have received fantastic feedback on this.
One dress- many possibilities.
In the linen collection, there are so many favorites that it is difficult to choose. Then it's nice that a dress can give you many options. Have you seen the Hannalena dress, a favorite that comes in many colors, and it is great to combine with the multi-layered Samanta, which you can uses both as a dress and a jacket. It can also be Cecillia shirt dress, it can be tough open as a coat, or closed as a dress, preferably with a belt. Just use your imagination to create new and exciting combinations.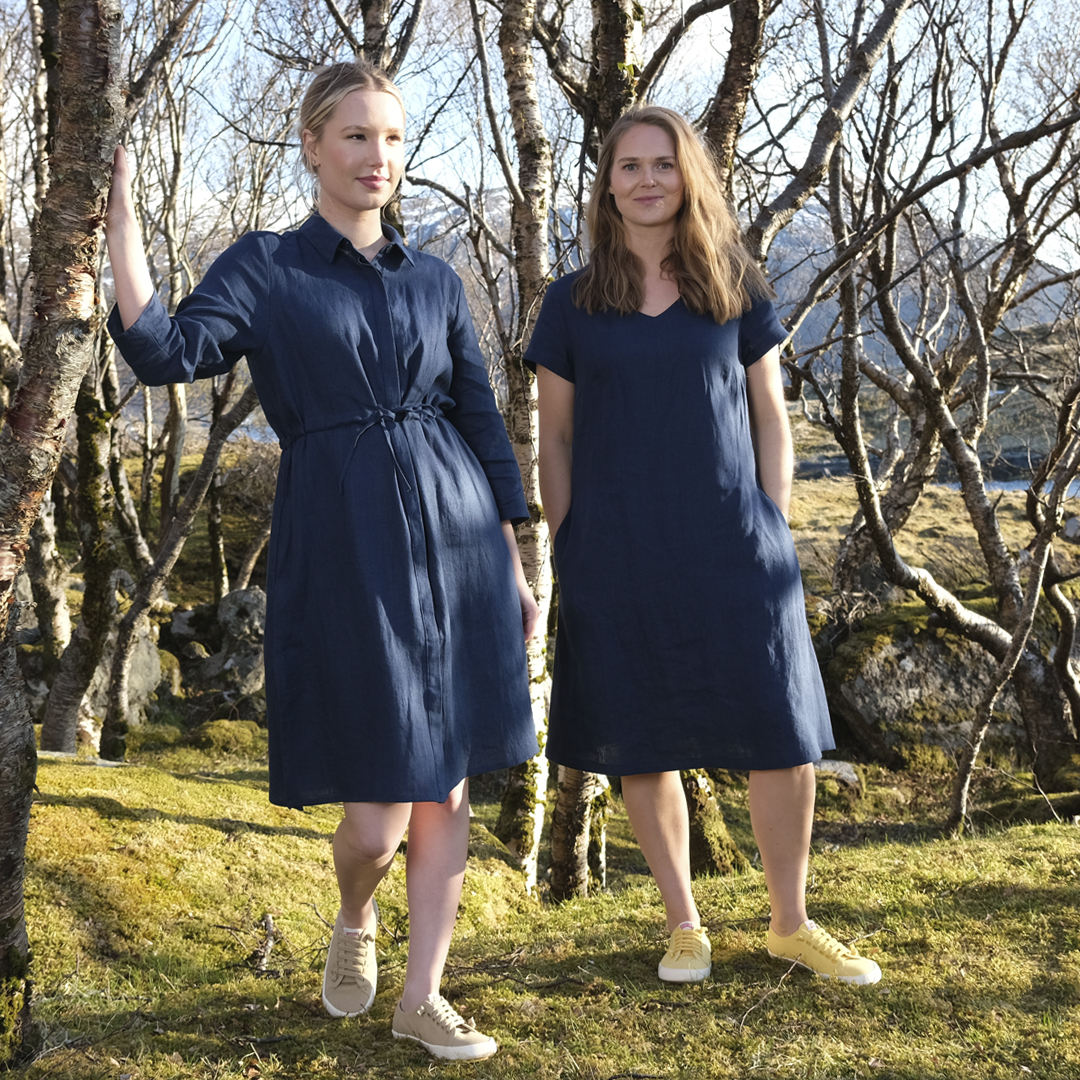 The multi-layered Samanta shirt dress is nice to combine with the Hannalena dress. Here they are separate, but are tough to use together as a set.
Timeless work dresses, yes thank you !!
Do you love timeless dresses, which last year after year. Then the new Tine and Pernilla dress is a good investment. This classic shape quickly became a favorite, and these are the perfect work dresses all year round.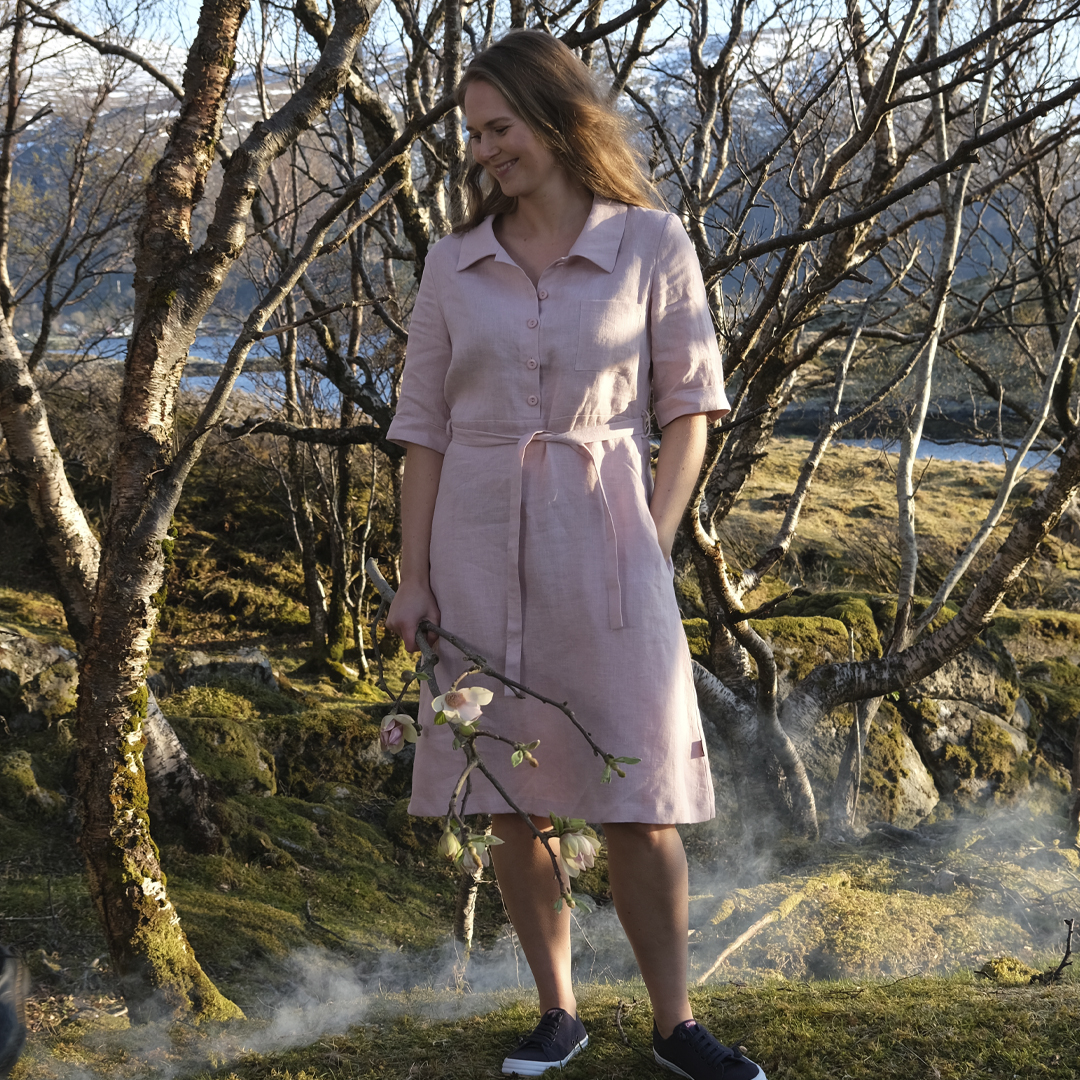 The linen dress Tine is new this year, and you also get it in medium length with the name Pernilla. A perfect work dress.
Linen dresses in all lengths
Many of our customers wanted dresses in several lengths, some want dresses that go below the knees and some want shorter dresses. Now we have it all. We just got the tunic Sif, which is the short tunic variant. A perfect dress if you want short dresses, or if you like the bohemian style with layers upon layers. Then the tunic is nice to combine with tights and trousers.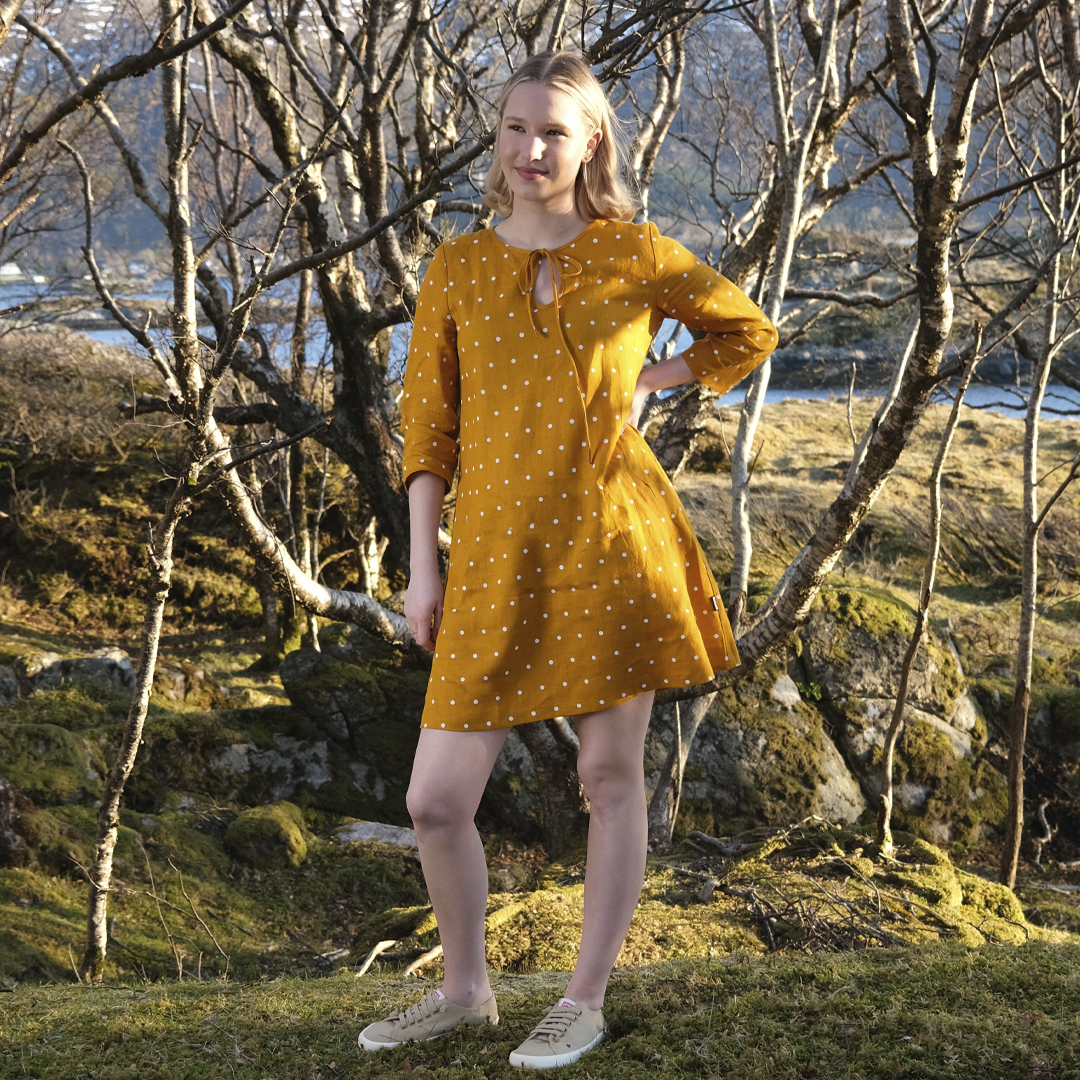 Here is the tunic Sif. The model here is 171 cm tall so you can see that this is a short dress / tunic.
We constantly have new designs, and now we have a new linen dress that in a short time has become a bestseller. The Penelope dress is a 70's inspired dress with polka dots. The boat neck is the extra detail. Inspiration for this dress was taken by Stine in the wardrobe of an old lady in the neighborhood where Stine grew up. It is so inspiring to see designs from the 50s, 60s and 70s. Everything was so elegant and stately at that time, and all the dresses were so well taken care of. It's so much fun to be inspired by the generations before us, we have a lot to learn there.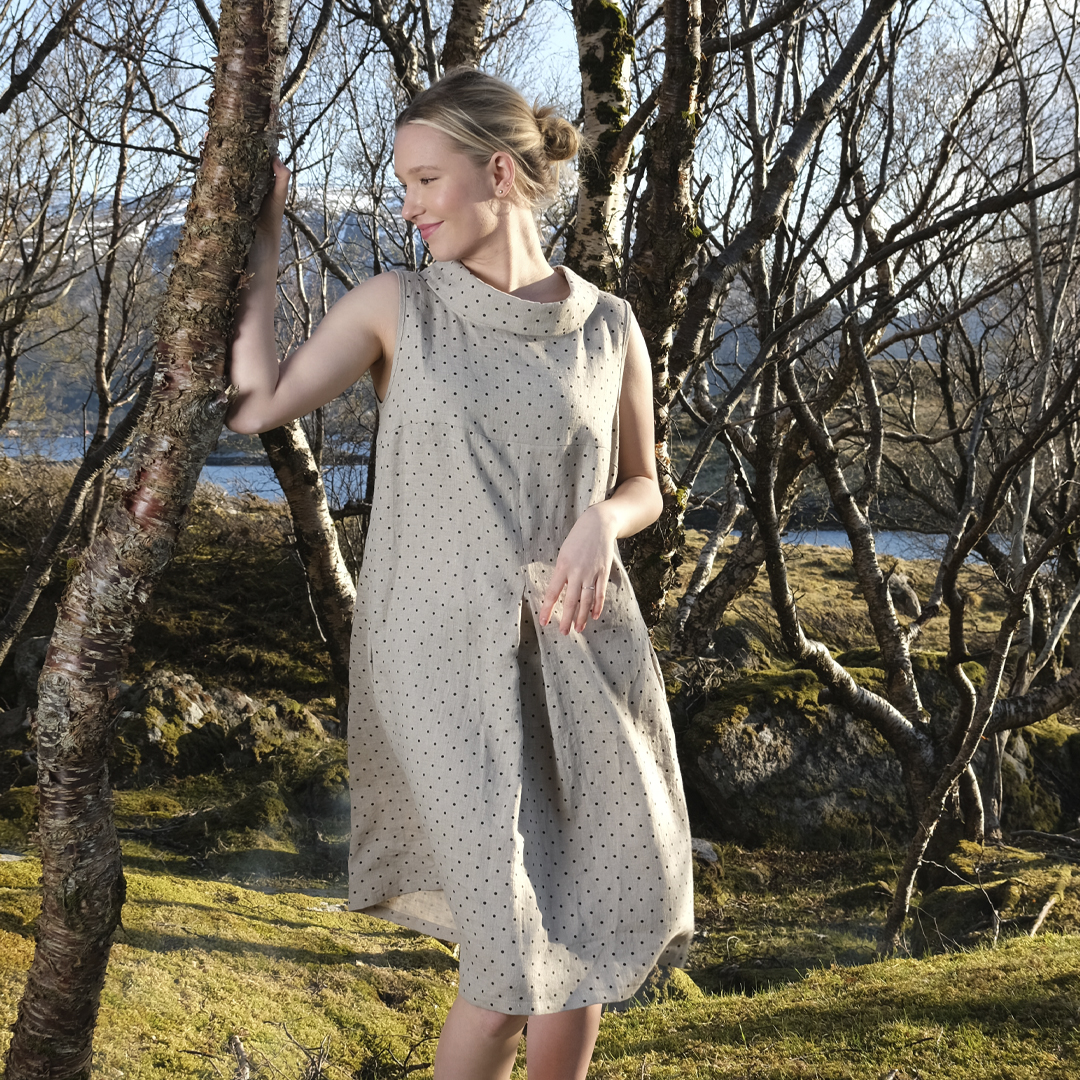 The Penelope dress is inspired by the 70's.
Looking for the WOW effect.
We always hunt for shoes, shoes, shoes ..... in all colors that create the wow effect together with the dresses. We are crazy after nice shoes, there is no doubt about it. For summer dresses in linen, Birkenstock sandals are a favorite, this is good "health shoes" with comfortable cork soles that fit perfectly to the dresses - and that take care of the feet. Can it get any better .... Well, when you find the coolest Spanish brand with unique sneaks ... then it can be discussed.
Because we just got the most wonderful sneaker that is perfect for summer dresses. ... have you heard of the Spanish shoe brand Camper? We love this shoe brand. Cool shoes, fantastic on the feet, and with completely unique details. Many people buy Campers shoes when they are on holiday in Spain. So now the plan is to create a little Spanish feeling here in Norway this summer, and we have a lot of the Camper sneakers for the summer collection ....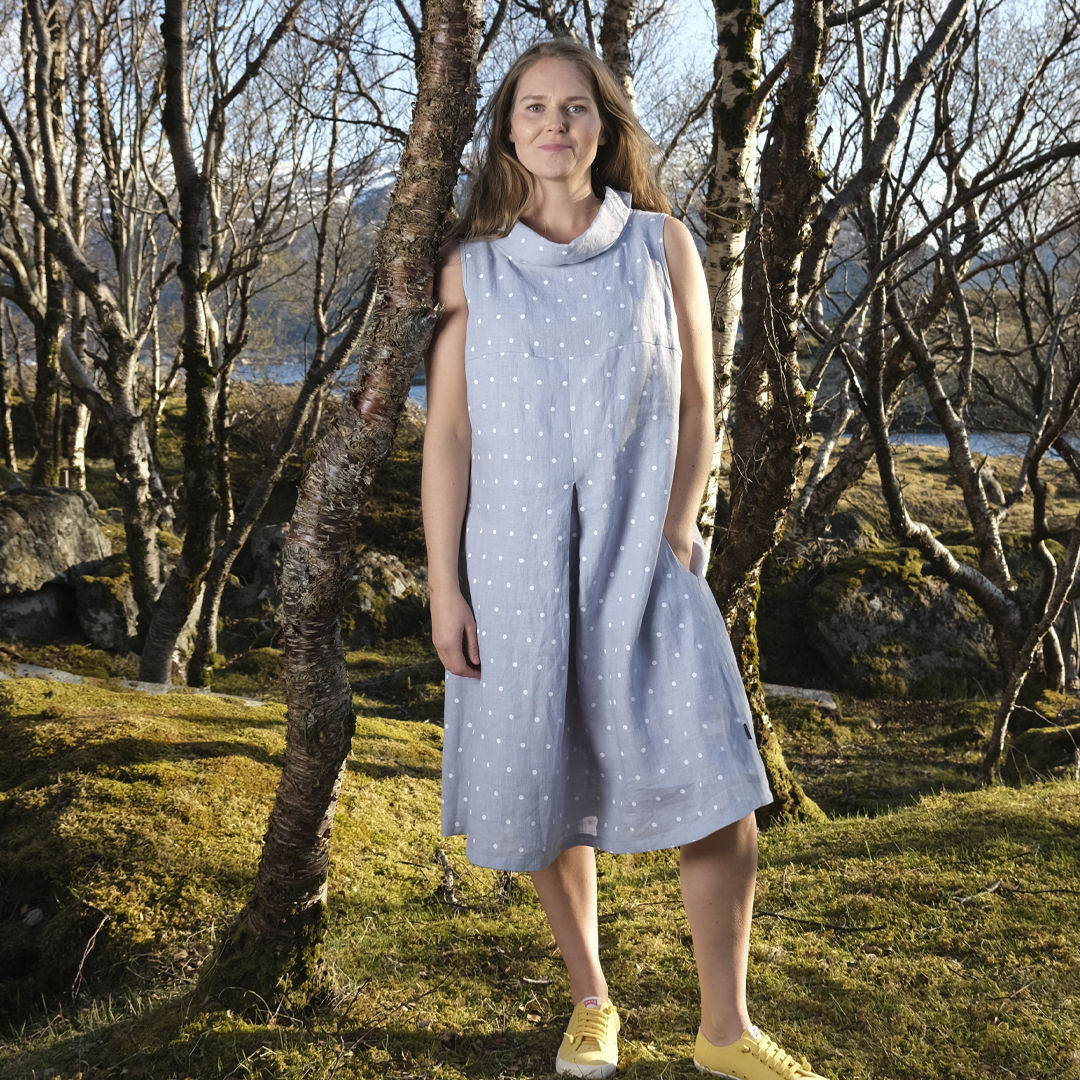 Here is the new Penelope dress in a wonderful combination with the Campers sneaker.
Hard to choose, you said?
You can´t choose just one dress? It's just so fun when customers find more than one favorite dress. We want to make dresses in many styles and shapes so you can find many favorite dresses in different shapes and colors. And if you can not choose just one dress ... then we will be soooo proud.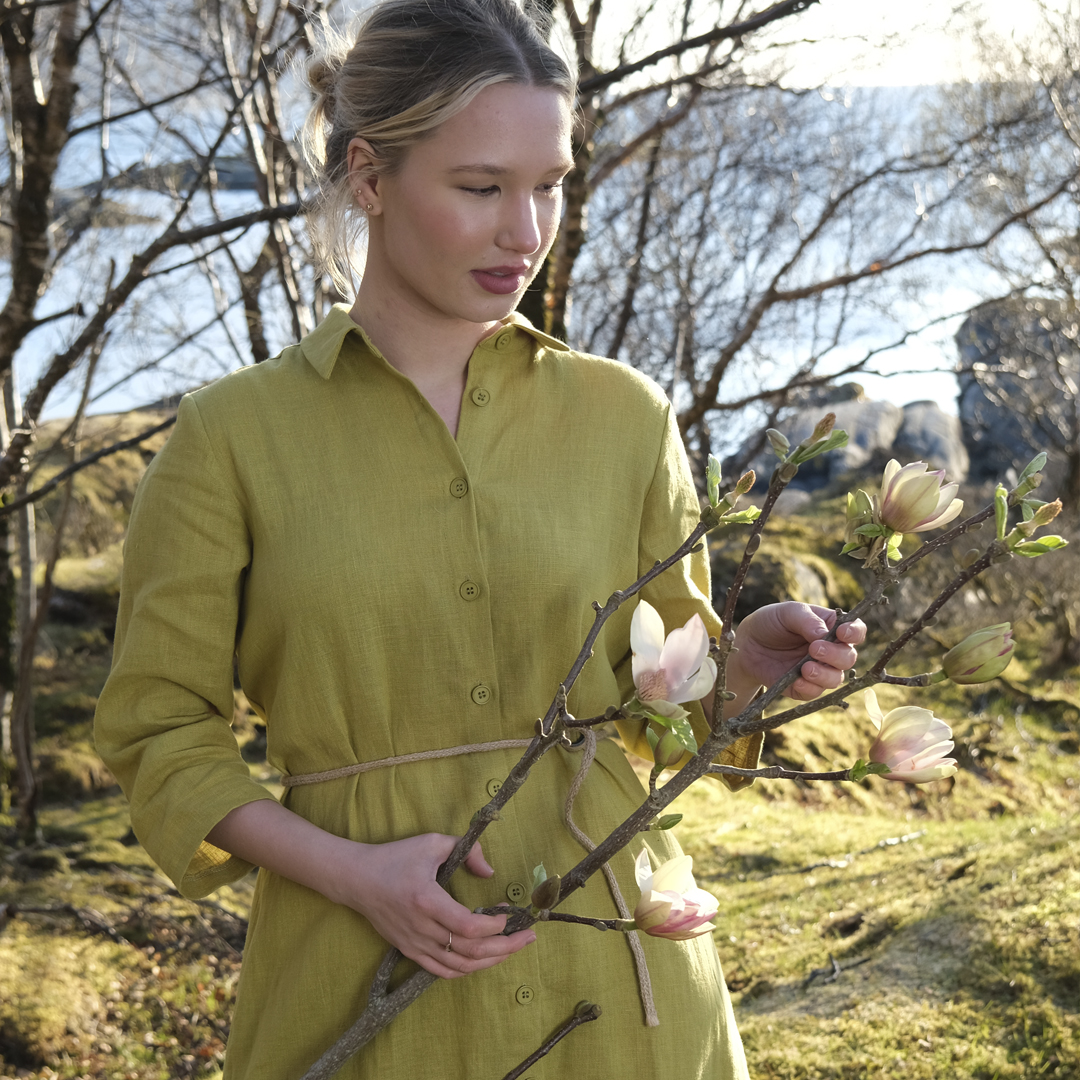 Here you see Cecillia's big shirt in linen, which can be conjured into a dress with a simple belt.
Our goal is for you to shine in dresses from kokonorway.
Our dresses should be in super quality, they should be functional and not least, they should be so good to wear ... that you prefer a dress over anything else. Most of all, we want you to shine and feel extra nice in the dresses from kokonorway. Maybe you will find your next favorite dress right in our populare linen collection here?
Are you ready to dance towards spring and summer in a new linen dress from kokonorway?